I am

super proud

because I made it and figured it all out

by myself

.
Didn't turn out to be that hard, but hard enough to give me a bit of a headache.
Ok, so it's not the flashest button, but it's MY button. That

I

made. Yeah!
Here it is: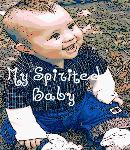 But I have no idea how to put the details for you to grab it in this blog post!
So you'll have to go to my sidebar, on the left, just down a little, you see it?
Hope you've all had a great weekend!